The material that is presented here is for adults only. If you have not reached the age of majority, close it immediately, please!
Well, honestly, we understand that it is too interesting for you, our dear readers, to leave this page just because of your age. Curiosity is not a sin, it makes us go forward and develop our intelligence. We cannot say that the dirty and weird puns we want you to see today will improve your smartness, but it will certainly cheer you up and will give you the material to use in parties and in groups of your friends.
We have picked the best adult jokes for you and hope you will enjoy the reading! Take your time, as some anecdotes are presented in form of full stories, but we hope you will familiarize yourself with all of them, as we tried to do our best to collect these funny things.
Good Jokes for Adults
Women are kin on joking at sex and other erotic topics. Moreover, sometimes they even diss their male partners, as they are not willing to please them fully. One can say that these jokes are too close to the reality to be funny, but they are still created for laugh. Or for mocking. It is better to ask the authors of these sayings to reveal the truth.
***
"What's 6 inches long, 2 inches wide, and drives women wild? A $100 bill."
***
"What's the difference between the G-spot and a golf ball? A guy will search for a golf ball."
***
Online Jokes for Adults
There are so many adult puns on the Internet, that cool ones drown in floods of stupid and dull humor. However, we have found these jokes to satisfy your taste, our visitors, and we hope you will appreciate our efforts.
***
"What's the best part about sex with 28-year-olds? There are twenty of them."
***
"What do you call a lesbian dinosaur? Lick-a-lotta-puss."
***
Hilarious Jokes for Adults
Here come the long funny stories! They are less popular than the one-liners, although they are still perfect to be told in the group of your adult friends. Be careful, these stories are quite clear, so do not risk telling them when your children are near – they would understand everything (oh, that bloody acceleration…).
***
"This old man and woman had been married for 30 years. In those 30 years, the woman had always insisted on the lights being off when they had sex as she was embarrassed. The man was thankful for this really as he was embarrassed too and scared that he couldn't please her, so in the dark, he always used a big dildo on her. After all these years of sex, she still had no idea that's what he did. One day, she decided that they'd been together so long that there was no reason to be embarrassed even though her body was now old. So in the middle of sex, she reached over and turned the bedside lamp on, only to see that her husband was using a dildo. She said angrily, "I knew it, asshole, explain the dildo!". The man replied, "Ok, but first – explain the kids!""
***
"Three guys go on a skiing trip together. When they get to the ski lodge there aren't enough rooms, so they have to share a bed. In the middle of the night, the guy on the right side of the bed wakes up and says, "Wow, I had this mad dream I was getting a hand job.". The guy on the left side of the bed has also woken up and says that he's had the same dream, too. The guy in the middle says, "Wow that's funny, I dreamed I was skiing.""
***
Goofy Jokes for Adults
Now we want to remind you the classic. These are some of the easiest adult jokes – if you are kin on such sayings, you have certainly heard them. It is always cool to keep in mind several old and understandable phrases that will be always appreciated by your buddies.
***
"Reporter: "Excuse me, may I interview you?"
Man: "Yes!"
Reporter: "Name?"
Man: "Abdul Al-Rhazim."
Reporter: "Sex?"
Man: "Three to five times a week."
Reporter: "No, no! I mean male or female?"
Man: "Yes, male, female… sometimes camel."
Reporter: "Holy cow!"
Man: "Yes, cow, sheep… animals in general."
Reporter: "But isn't that hostile?"
Man: "Yes, horse style, dog style, any style."
Reporter: "Oh dear!"
Man: "No, no deer. Deer run too fast. Hard to catch.""
***
"In the morning Tom calls to his boss:
– Good morning, boss, unfortunately, I'm not coming to work today. I'm really sick. I got a headache, stomach ache, and my both hands and legs hurt, so I'm not coming into work."
The boss replies:
– You know Tom; I really need you today. When I feel like this I go to my wife and tell her to give me sex. That makes me feel better, and I can go to work. You should try that.
2 hours later Bob calls:
– Boss, I followed your advice, and I feel great! I'll be at work soon. By the way, you got a nice house."
***
Humorous Jokes for Adults
There are so many jokes about dicks that we couldn't add them to this list! They are like accurate blows below the belt and are often suitable for any company; but do not personify them, as they can sound really offensive, just like the second joke.
***
"What do a penis and a Rubik's Cubes have in common? The more you play with it, the harder it gets."
***
"What do you call the useless piece of skin on a dick? The man."
***
Hysterical Jokes for Adults
These jokes made us crazy – we laughed hysterically for several minutes! One of the best humorous recipes includes a controversial or intimate topic with a bit of sarcasm. Enjoy and feel the true irony of the talented jokers.
***
"Unexpected sex is a great way to be woken up… If you're not in prison."
***
"What's the difference between your job and a dead hooker? Your job still sucks."
***
Adult Humor Jokes
Wow, it was an unexpected! Such a degree of lolable rudeness is sometimes suitable, though remember that the dirty jokes should be told only in the group of the closest people, who will accept your weird sense of humor.
***
"'Why was the guitar teacher arrested? For fingering a minor."
***
"Girl: "Hey, what's up?" Boy: "If I tell you, will you sit on it?""
***
Nasty Jokes for Grown Ups
Do you want to know the best way to shut a woman up? Or, probably, how to make a nun pregnant? Read these nasty jokes and reveal those dirty secrets.
***
"Why did God give men penises? So they'd have at least one way to shut a woman up."
***
"How do you get a nun pregnant? Dress her up as an alter boy."
***
Dirty Knock Knock Jokes
Who's there? There is a perfect joke! Probably everyone felt the desire to answer a bit more interestingly and surprisingly than ordinary: "It's me!" to that frequent question. Use these variants everywhere you want. Think about the reaction you can trigger, of course, as it may be negative and you will get some good beating for your barbs.
***
"Knock Knock!
Who's there?
Fuck you said.
Fuck you said who?
Me!"
***
"Knock Knock!
Who's there?
Sucka.
Sucka who?
Sucka dick and let me in."
***
Funny Adult Puns
Are you sick and tired with all those stupid comedians in the group of your friends? Diss them immediately! We give you the stunning weapon that will knock off everyone, who bother you with dullness.
***
"What's the difference between your dick and a bonus check? Someone's always willing to blow your bonus."
***
"How is a push-up bra like a bag of chips? As soon as you open it, you realize it's half empty."
***
Funny Jokes for Adults
We adore the puns that start with the questions. They really enliven the atmosphere in the parties, as they can involve all the guests, who will definitely try to find an answer, though we know that your one will be the best. There are two sayings to vary your collection of lulz.
***
"What do boobs and toys have in common? They were both originally made for kids, but daddies end up playing with them."
***
"Why having fun with a prostitute is like a bungee jumping? You're dead if the rubber breaks."
***
Funny Dirty Jokes for Adults
It is an often case when your children accidentally hear something they shouldn't. They interpret everything it in their ways, but sometimes they even outdo the adults in humorous sayings. We have found three similar funny situations, where children took the major part.
***
"A little girl and boy are fighting about the differences between the sexes, and which one is better. Finally, the boy drops his pants and says, "Here's something I have that you'll never have!"
***
The little girl is pretty upset by this, since it is clearly true, and runs home crying. A while later, she comes running back with a smile on her face. She drops her pants and says, "My mommy says that with one of these, I can have as many of those as I want!""
***
"A boy says to a girl, "So, sex at my place?" "Yeah!" "Okay, but I sleep in a bunk bed with my younger brother, and he thinks we're making sandwiches, so we have to have a code. Cheese means faster and tomato means harder, okay?" Later on, the girl is yelling, "Cheese cheese, tomato tomato!" The younger brother says, "Stop making sandwiches! You're getting mayo all over my bed!""
***
"Maria went home happy, telling her mother about how she earned $20 by climbing a tree. Her mom responded, "Maria, they just wanted to see your panties!" Maria replied, "See Mom, I was smart, I took them off!""
***
Amazing Jokes for Adults
Do you like to crack jokes? Do you have the reputation of a great comedian among your friends and relatives? We have some cool puns to add to your archive of humor! We have already used them and promise you the deafening laugh from your listeners.
***
"How is life like a penis? Your girlfriend makes it hard."
***
"What's the difference between a woman with PMS and a terrorist? You can negotiate with a terrorist."
***
Party Jokes for Adults
Party time always gives the reasons to laugh. The great amount of alcohol, huge pack of food and a lot of guests together make us act weird, as we become more relaxed than we usually are. What a cool reason to joke at and after the parties! The raising of the mood and funny memories are guaranteed.
***
"The milkman goes to the door to collect his money when he knocks the door swings open and he walks in. The place is a mess, beer bottles and liquor bottles everywhere. He is just about to leave when the lady of the house comes down the stairs. He looks at her then looks at the mess She catching the hint, explains that they had a big party last night. The milkman spots a blanket in the corner with holes all cut out. "What was that for?" He asked Well she explained "We were playing party games last night, where we had all the men line up behind the blanket and stick there penis's out the holes. Then all the women went along and tried to guess whose was whose." Man that must have been some party wish I here. Well, you might as well have been here your name came up several times."
***
"A girl was a prostitute, but she did not want her grandma to know.
One day the police raided a whole group of prostitutes at a sex party in a hotel and she was among them.
The police took them outside and had all the prostitutes line up along the driveway.
Suddenly the girl's grandma came by and saw her.
"Why are you standing in line, dear?" she asked.
Not willing to let her grandma know the truth, the girl told her that the policemen were passing out free oranges.
"Why, that is awfully nice of them! I think I'll get some for myself," said the grandma.
A policeman went down the line, asking for information from all of the prostitutes.
When he got to Grandma, he exclaimed, "Wow, still going at it at your age? How do you do it?"
Grandma replied, "Oh, it's easy, dear. I just take out my dentures and suck them dry!""
***
Great Grown Up Jokes
Be careful joking at women. They are delicate flowers and sensitive creatures, and can easily get offended by puns. Well, they can answer powerfully and make your male rating be in the toilet. However, if you are sure about your jokes – just try to joke, your bravery would be appreciated positively.
***
"I went out dressed like a chicken last night and I met a girl who was dressed like an egg. One thing led to another and the lifelong question was answered: it was the chicken."
***
"Why do women have orgasms? Just another reason to moan, really."
***
Best Silly Adult Jokes
There are a lot of stupid jokes among amazing ones. If you have the lack of understanding what is a good pun and what is a silly one – we give you two examples of how you should not poking fun at.
***
"What did the O say to the Q? Dude, your dick's hanging out."
***
A man goes to the doctor and says "I've got a problem, I have 5 penises."
The doctor says "Wow, how do your pants fit?"
He replies, "Like a glove.""
***
Cool Jokes for Adults
Memes like these are highly popular. You should not write them down on the social networks – just pick some on the Internet and easily send them in a message. If your trying to joke is not understood – say that you have sent a wrong picture.
***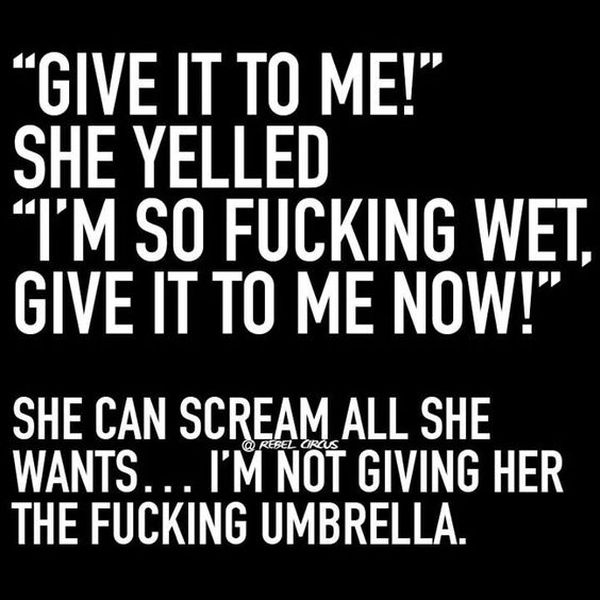 Extremely Funny Jokes for Adults
Be ready to meet several weird jokes. Only the boldest persons will use them in conversations. We suppose you belong to those daredevils, otherwise you would not be here, reading this.
***
"What do you call a deaf gynecologist? A lip reader."
***
"Wife comes back from the doctor and says to her husband:
– Honey, I have a sad news – a gynecologist told me not have sex for three weeks…
Husband:
– And what the dentist said?"
***
Joke of The Day For Adults
Do you want to make your day? We know how to do this! We present these lulzes to cheer you up. Use them to make laugh your close people too.
***
"What's another name for a vagina? The box a penis comes in."
***
"Boy: "Want to hear a joke about my dick? Never mind, it's too long."
Girl: "Wanna hear a joke about my pussy? Never mind, you won't get it.""
***
Short Dirty Jokes
The modern people do not want to spend the time for reading the long things on the Internet. We tried to put ourselves in our readers' shoes and find the best one-liners that will not take a lot of your attention and time.
***
"Sex without condoms is magical… A baby appears and father disappears."
***
"Why do vegans give better head? They're used to eating nuts."
***
Silly Jokes for Adults
Again, we cannot stand the dull humor – we remind you that before joking, you should think twice and train your humor skills the best you can.
***
"How did you quit smoking?
I decided to start smoking only after sex."
***
"I'm not sure how I feel about masturbation… On the one hand, it's pretty great."
***
"I hope Death is a woman. That way it will never come for me."
***
Funny Dirty Sex Jokes
Sex is an eternal thing, so the jokes about it will live forever too. They are always pleasing and cheering, and sometimes may serve even as the erotic hints. Try to tell them in a dialog with your girlfriend or boyfriend – the person you are sleeping with will certainly laugh at them.
***
"What is a Jewish person's first discount? 10% off the penis."
***
"Three words to ruin a man's ego…? "Is it in?""
***